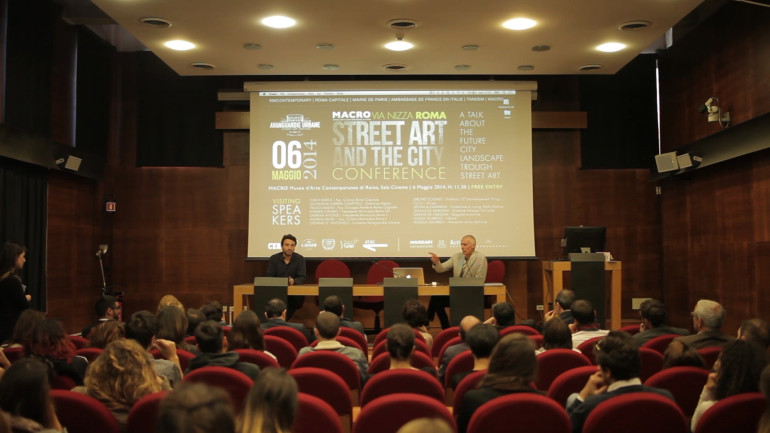 URBAN LEGENDS, i giorni della street art | Curated by Stefano S. Antonelli & Francesca Mezzano | MACRO Museo d'Arte Contemporanea di Roma | La Pelanda, centro di produzione culturale | giu 7 – aug 10 | Invited artists C215, ALEXONE, PHILIPPE BEAUDELOCQUE, EPSILONPOINT, POPAY, SETH, ERON, MONEYLESS, LUCAMALEONTE, TELLAS, 108, ANDRECO
STREET ART AND THE CITY CONFERENCE
May 6, MACRO via Nizza H:11,30.
Street Art and the City, that's the title we choose for our first conference in Roma's contemporary art museum. We will discuss about the future city landscape trough street art, 14 speakers from Rome city municipality to Jerome Coumet 13° arr. Paris mayor, Monica Campana Living Walls Atalanta founder and C215 world famous street artist.
VISITING SPEAKERS
Giovanna Alberta Campitelli – Macro director
Flavia Barca – Ass. Cultura Roma Capitale
Paolo Masini – Ass. Sviluppo periferie Roma Capitale
Andrea Catarci – Presidente Municipio Roma VIII
Andrea Valeri – Roma Capitale, Ass. Cultura Municipio Roma I
Sabrina Alfonsi – Presidente Municipio Roma I
Stefano S. Antonelli – Curator
Jerome Coumet –  13° arrondissement Paris mayor
C215 – street artist (France)
Monica Campana – Living Walls Atlanta (USA)
Gianluca Marziani – Museo di Palazzo Collicola
Sabina de Gregori – Essayist
Angela Saltarelli – Lawyer